It's not another diet. In fact, it's EXACTLY the opposite.
21 Day Fix lets you EAT! Only in just the right portions, so you don't feel miserable and deprived—but you CAN finally start losing weight.
What's the secret? Our seven exclusive containers. Each one is color-coded for a different kind of food, and pre-measured for the precise portion. You'll never have to "eyeball" your measurements again—if it fits in the container, you can eat it!
Combine this eating plan with one 30-minute workout a day. That's all. It's that simple!
WHAT DO YOU GET WITH THE 21 DAY FIX?
Everything you need to lose weight. Simply and quickly.
Simple 30-Minute Workouts
6 easy-to-follow workouts on 2 DVDs
Ready for a major calorie burn in only 30 minutes? We made these workouts short so you can get in, get out, and get on with your day. The workouts will challenge you at every level to help maximize fat loss. And there's always a modifier on screen to show you how to dial down the intensity without losing the benefits.
1. Total Body Cardio Fix
Keep your heart rate up and your metabolism revved high long after the workout is over.
2. Upper Fix
Targeted resistance training helps shape your chest, back, shoulders, arms, and abs.
3. Lower Fix
Firm and tone your entire lower body while you blast fat and burn calories.
4. Pilates Fix
Strengthen your core, elongate your muscles, and firm your hips and thighs.
5. Cardio Fix
Get your heart pumping and your body moving as you melt away the pounds.
6. Yoga Fix
Improve your balance, flexibility, and strength as you help relax your muscles.
Simple Portion Control
No more calorie-counting. And NO starving!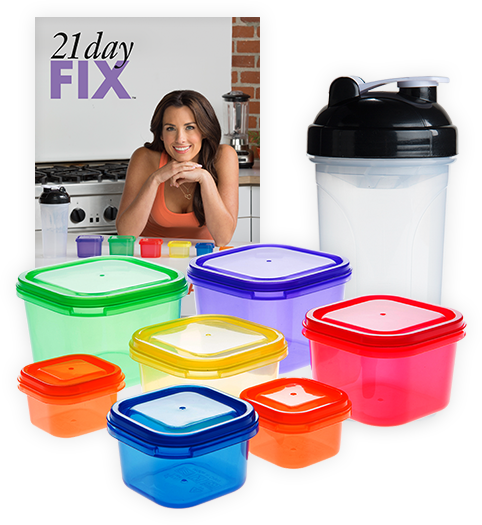 Forget about counting, cups, and calories. When it comes to losing weight, simplicity equals success. These seven color-coded containers and Shakeology® shaker cup deliver exactly the right portions every time, so you never eat too much or (too little). Fill them up as directed in the Eating Plan – and you will lose the weight!
Green—Veggies
Purple—Fruits
Red—Proteins
Yellow—Carbs
Blue—Healthy Fats
2 Orange—Seeds & Dressings
Shakeology Shaker Cup—Drinks
PLUS 4 FREE BONUS GIFTS
21 Day Fix Eating Plan
This simple Eating Plan takes you step-by-step through the process and makes portion control so easy, you won't even have to think about it. Enjoy delicious, healthy food without counting calories, and watch the pounds fall off.
3 Day Quick Fix
Get beach-ready in 72 hours! This is Autumn's secret weapon for losing weight fast before a competition or photo shoot. Do it during the last 3 days of 21 Day Fix for mind-blowing "after" pictures.
Dirty 30 Workout
4 rounds of fat-burning exercises help carve out a leaner, stronger physique.
24/7 Online Support
Get extra support and motivation from weight-loss experts and other 21 Day Fix customers.
Commit to making a change and watch the pounds come off!
After Day 1 you're fueled with energy and endorphins.  By Day 2 and 3 you're realizing the food plan is very doable, you just have to gab whats good instead of what's not.  You get PLENTY to eat, its hard to finish some days!  By the end of Week 1 you're proud, feeling thinner and ready to shout your success from the rooftops.  By the end of Week 2 you're wondering why you didn't try this sooner.  By the 21st Day you've dropped pounds, inches, old negative thoughts AND you realize how easy it is to grocery shop, prep your food and feel prepared all the time.
The biggest ah-ha! moment is….
When you realize you were really doing it the hard way all along!